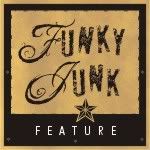 sweeter than sweetness Donna from Funky Junk Interiors
featured my craft space!
i'm smiling huge ... really big :):)
she's such a sweet lady, and an amazing blogger to glean so much knowledge from
thanks a ton of huge-ness Donna!
go take a peek ... and there's so much to feast your eyes on there!